Gyrotonic® is a technique that focuses on mobilization of the spine and joints. It effectively eases pain and eliminates restrictions in the body. Exercises are performed on the Pulley Tower Combination Unit, a unique piece of equipment that is fully adjustable to meet the needs of many people with varying body types and levels of strength.
Gyrokinesis®
Gyrokenesis® is similar to Gyrotonic® in principle, but without the use of equipment. It is done in a seated position and on the floor. Similar to a dance or yoga class, it is taught in a group setting with flow and rhythm connecting movement and breath.
Both Gyrotonic® and Gyrokinesis® methodology are full-body approaches to fitness that work with the natural motions of the body.
They offer strengthening, stretching and increased aerobic capacity using circular, 3-dimensional and fluid movements. These methods will help you feel freedom of movement like you've never felt before.
How does Gyrotonic® and Gyrokinesis® differ from other types of exercise?
There is no beginning and no end to these three-dimensional movements. Gyrotonic® and Gyrokinesis® create connected, fluid motions, rather than static, linear movement. The advantage to the joints is fluidity and renewal, as opposed to repetitive wear and tear.
The routines change and evolve, so the client never gets bored, and rather than isolating specific parts, Gyrotonic® and Gyrokinesis® address the whole body – stretching and strengthening every single time you work out.
Benefits of Gyrotonic® and Gyrokinesis®
Create graceful and fluid movement like an athlete or dancer
Deep abdominal and core strengthening
Build cardiovascular endurance through energetic, rhythmic, movement
Compliments traditional cardiovascular activity and cross-training
Build balance in muscles and joints
Create space in the spine
Increased flexibility and agility
Focuses on the coordination of breath as the fuel for movement
Comprehensive focus on muscles, muscle fascia, joints, spine, and nervous system
Creates fluidity and elongation of muscles and joints
Provides a mobile workout that can be easily performed while at home, office, or traveling
Relief from pain and compression through expansion and movement of energy in the body
For more information on Gyrotonic® and Gyrokinesis® methodology, visit the official headquarters website at www.gyrotonic.com
Juliu Horvath, the inventor of Gyrotonic®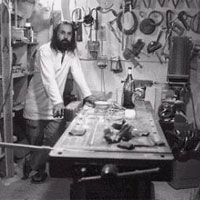 Gyrotonic® methodology is the invention of Juliu Horvath, a Hungarian raised in Romania, whose professional career in movement spanned years as a ballet dancer, competitive gymnast and swimmer. Juliu defected to the United States in the late 1960s and found success with ballet companies nationwide before his career was abruptly ended by an injury. As part of his recovery, Juliu discovered a unique combination of key movement principles that he called Gyrotonic® and Gyrokinesis® exercises. A truly innovative movement technique, Gyrotonic® and Gyrokinesis® exercises were also designed to develop the inner strength necessary to support muscular and skeletal strength.
The following biography of Juliu Horvath is from his book, The Art of Exercising and Beyond.
Juliu Horvath was born in 1942 in Temesvar, Romania. His love for movement already became apparent when he was a small child, as he successfully practiced swimming, gymnastics and rowing. Whereas many people who become dancers begin practicing as children or young teens, at the age of 19 he began taking dance classes, and by the time he was 21, he was Principle dancer with the Romanian National Ballet Company. While on tour in Italy in 1970, he defected and stayed in a refugee camp for six months. Juliu then received political asylum in the United States and he thus traveled to New York City. After arriving in New York, Juliu did whatever he needed to do in order to survive, from painting houses to dancing on cars in Central Park. During this time he also began to audition for dance positions, and he performed in civic ballets. He eventually landed dancing jobs with The New York City Opera, and he was a guest artist at Radio City Music Hall.
Juliu also danced for a special tour company with international stars such as Margot Fonteyn, Jacques d'Amboise and Melissa Hayden, and eventually he secured a job a principal dancer with the Houston Ballet. While with the Houston Ballet, Juliu ruptured his Achilles tendon and this injury brought his dancing career to a sudden halt.
After he injured himself, Juliu moved back to New York City for a short time and started indulging himself in more yoga practice. During this time, he began experiencing more profound energetic movements in his body. Desiring to learn more about these experiences, he moved to the Island of St. Thomas in the Virgin Islands in order to create an environment dedicated to a further exploration of these deeper energetic experiences. He built a small, one room hut in the mountains, and for several years this movement practice became his way of life. He thus dedicated most of his time to the study of yoga and meditation.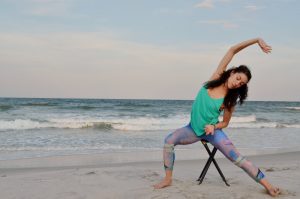 Juliu created a movement system during his stay on St. Thomas that he originally named 'Yoga for Dancers', and this movement system is a direct outgrowth of his energetic experiences. Juliu eventually found his way back to New York City after his stay on St. Thomas, and in the early 1980's he began teaching Yoga for Dancers at Steps on Broadway and at White Cloud Studio which he also opened. As time went on he streamlined and refined Yoga for Dancers, eventually creating a format of it that almost any person could perform, regardless of age or state of health. He named this refined version of Yoga for Dancers 'GYROKINESIS® Methodology', which is what it is called today, however the original Yoga for Dancers movements are still taught as part of the GYROKINESIS® Level 2 Program.
It was also at White Cloud Studio that he developed the world renowned Gyrotonic® equipment. Gyrotonic® and Gyrokinesis® methodologies are now taught by licensed trainers in over 48 countries, and the number of training centers offering these modalities is steadily growing. Juliu Horvath continues to create and teach Gyrotonic® and Gyrokinesis® Training Courses worldwide, and he is always developing a more commonsense approach to health and well-being, in a "seriously un-serious" way.