This year, Erin was able to travel and further her knowledge of Qi Gong and Gyrotonic® practices. We asked her to talk to us about her adventures and received instead a profound insight into how Qi Gong and Nei Gong have shaped the unique insight Erin has into the human body and the knowledge and energy she shares as both a teacher and a student.
The question has been asked to me "What is Qi Gong?"
With a request to explain it in two to four sentences. I have to say everything that I had read or have been told regarding this internal art never prepared me for the depth and magnitude of this study. I could plug the benefits associated with the art such as longevity and improved health but those are mere side effects of the practice. I would much rather invite everyone to come and try it. This is an experiential system; it is to be experienced not just spoken about. The experience as introduced to me through Lotus Nei Gong and my teacher Damo Mitchell was profound in such a way that it has changed the framework of how I understand the capabilities of the human body. It has become the crowning jewel of my personal practices, and as such, has become a part of everything I do.
For those of you who are not familiar with me, I love the study of the Human body…through Massage and anatomy, as well as through movement with Pilates and Gyrotonic® systems. It is Qi Gong and the larger process that I study, Nei Gong, that has provided me a path to explore the fullest extent of human possibilities. Through simple moving and standing exercises, all the way to sitting and meditative practices, these internal arts are the most transformative work that I have ever had the pleasure to stumble upon.
As a practitioner and teacher of these arts and disciplines, it is imperative that I am a constant student. In fact, my passion for continuing education is almost a full time body of work in itself. My exploration has taken me across the ocean several times. With Nei Gong, I have the privilege of studying in Sweden during the summer months with fellow practitioners from 20 different countries. Recently, through my study of Gyrotonic®, I was taken to London for an apprenticeship. I travel often to see my teachers in the United States…and let's not forget that we have the privilege here at Body Balance institute to connect with amazing movement and Anatomy trainings.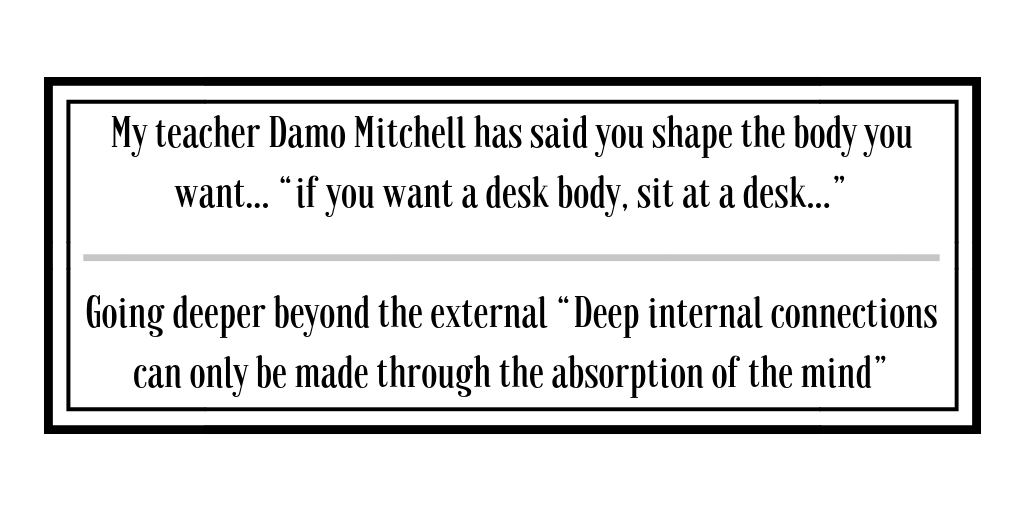 I think these concepts are important to understand. And they certainly color how I move through this life. First, how much power we have to make changes in our lives by simply being aware of our actions. How every position you place your body in you are giving it an instruction; Collapse or expand… rest and calcify or open and lengthen. We need to consistently show and use our bodies in a way that is appropriate for what we want to accomplish in this life and we need to move with clarity. I wish that more people understood how good their bodies are designed to feel. I am by no means a dancer but this quote has always spoken to me: